Disclosure: We only recommend products we would use ourselves and all opinions expressed here are our own. This post may contain affiliate links. At no additional cost to you, we may earn a small commission. Thanks!
It's no secret that fall is a beautiful time of year to take family photos. The temperature is cool, the leaves are turning beautiful fall colors, and it's the calm before the holiday season storm. I have put family photos off for a few years now and we're overdue! As we've been prepping, I've created mood boards for 7 amazing, coordinating fall family photo outfits to inspire you to schedule your own photo shoot. (Links to outfits are included below to make it super easy)
What to Consider for Fall Family Photos
Place
This truly depends on where you are located. Ask your photographer if they recommend any good spots for your family photo session! Depending on the vibe you are going for (see below), this could be woods, a field, mountains, on the beach, on a city street, at a park, etc. If you have toddlers, a big open space will probably be best.
Vibe
The vibe of your photoshoot completely depends on your vision for it and your family's personal style. Would you like it to be relaxed? elegant? edgy? quirky? fun?
Colors
Ask yourself what colors you are drawn to. Some great fall colors are neutrals, earth tones, bold teals or purples, rusty brown, shades of black, burnt orange, navy blue, mustard yellow, and more. The only colors you may want to shy away from in the fall are bright pink or pastels.
Temperature
This also depends on where you are located. For instance, fall is still relatively warm here in Charleston so we can get away with dresses or light sweaters. However, it is much cooler in New England so you may want to wear sweaters and scarves. Choose temperature appropriate outfits for your family so everyone is comfortable and happy.
Timing
I'm adding this extra section for the parents of babies, toddlers or small children. Timing is everything for a family photo session. If they are hungry or tired, they are not going to be happy campers. Avoid the "witching hour" which is between 5-11pm when babies are extra fussy.
Fall Family Photo Outfits: Mood Boards!
1) Meadow Blues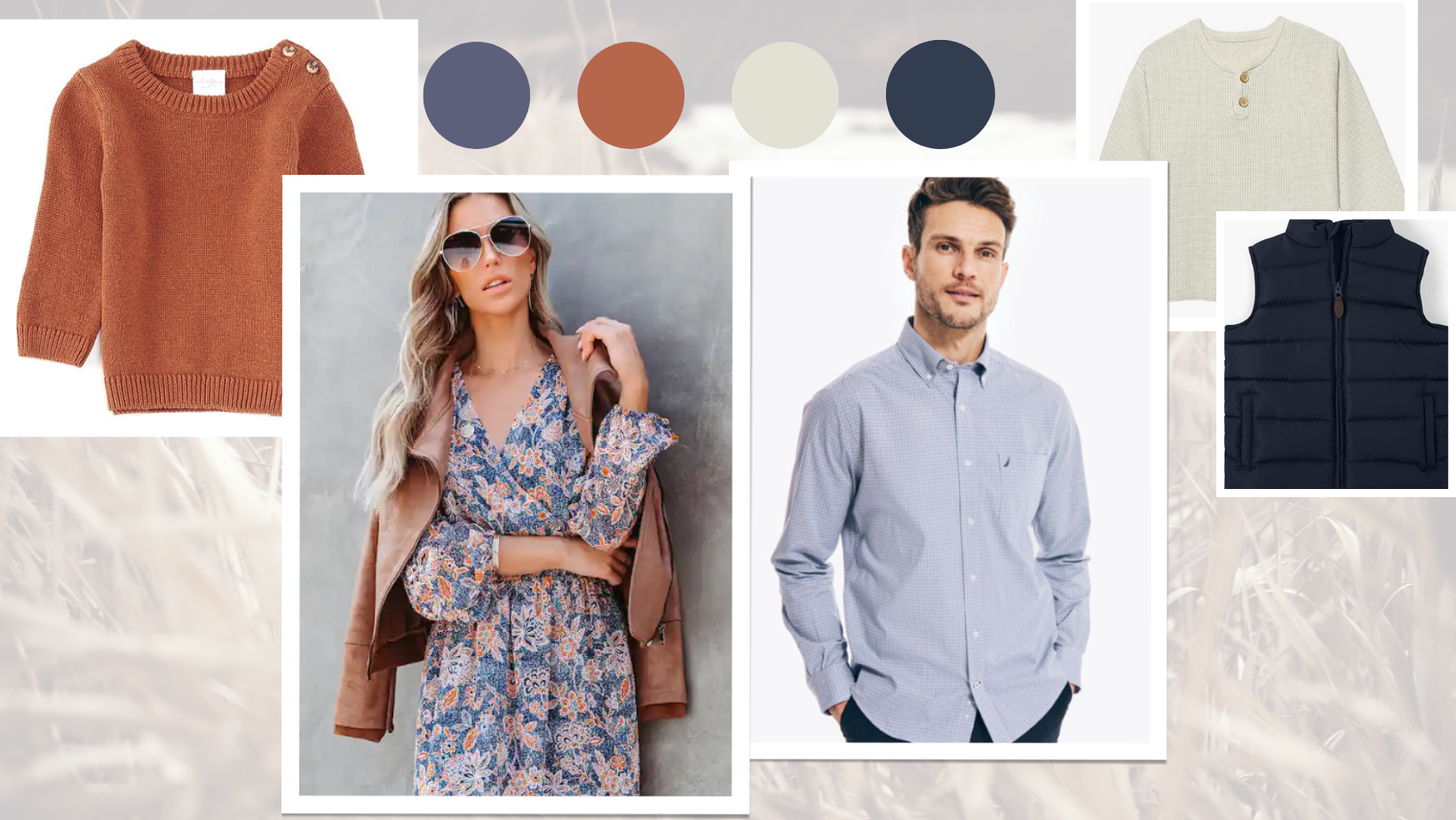 Buy Your Outfits: Orange Sweater | Blue Floral Dress | Button Down Shirt | Cream Waffle Shirt | Navy Puffer Vest
2) Urban Black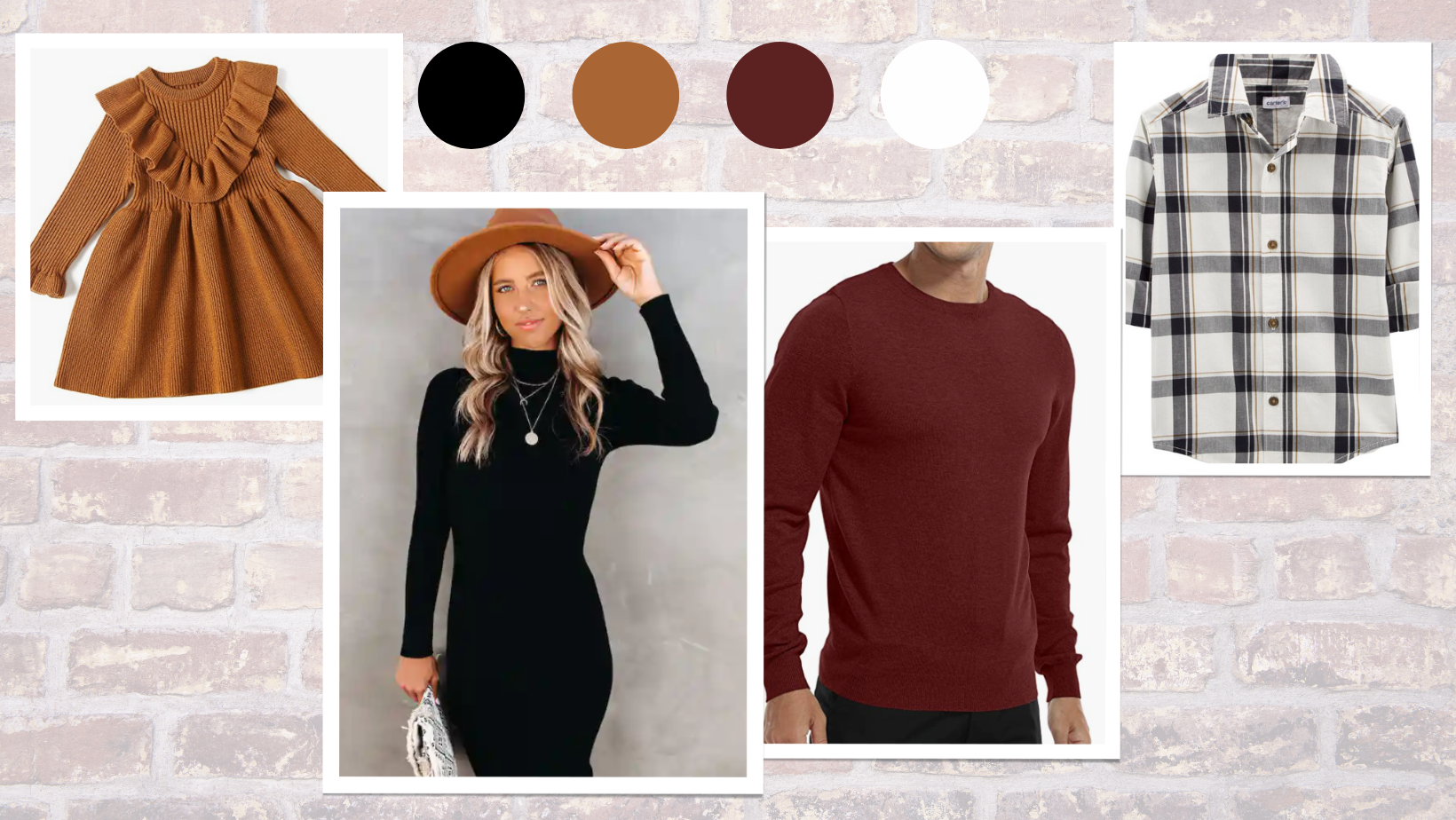 Buy Your Outfits: Orange Sweater Dress | Black Long Sleeve Dress | Burgundy Sweater | Black and White Plaid Button Down Shirt
3) Ray of Sunshine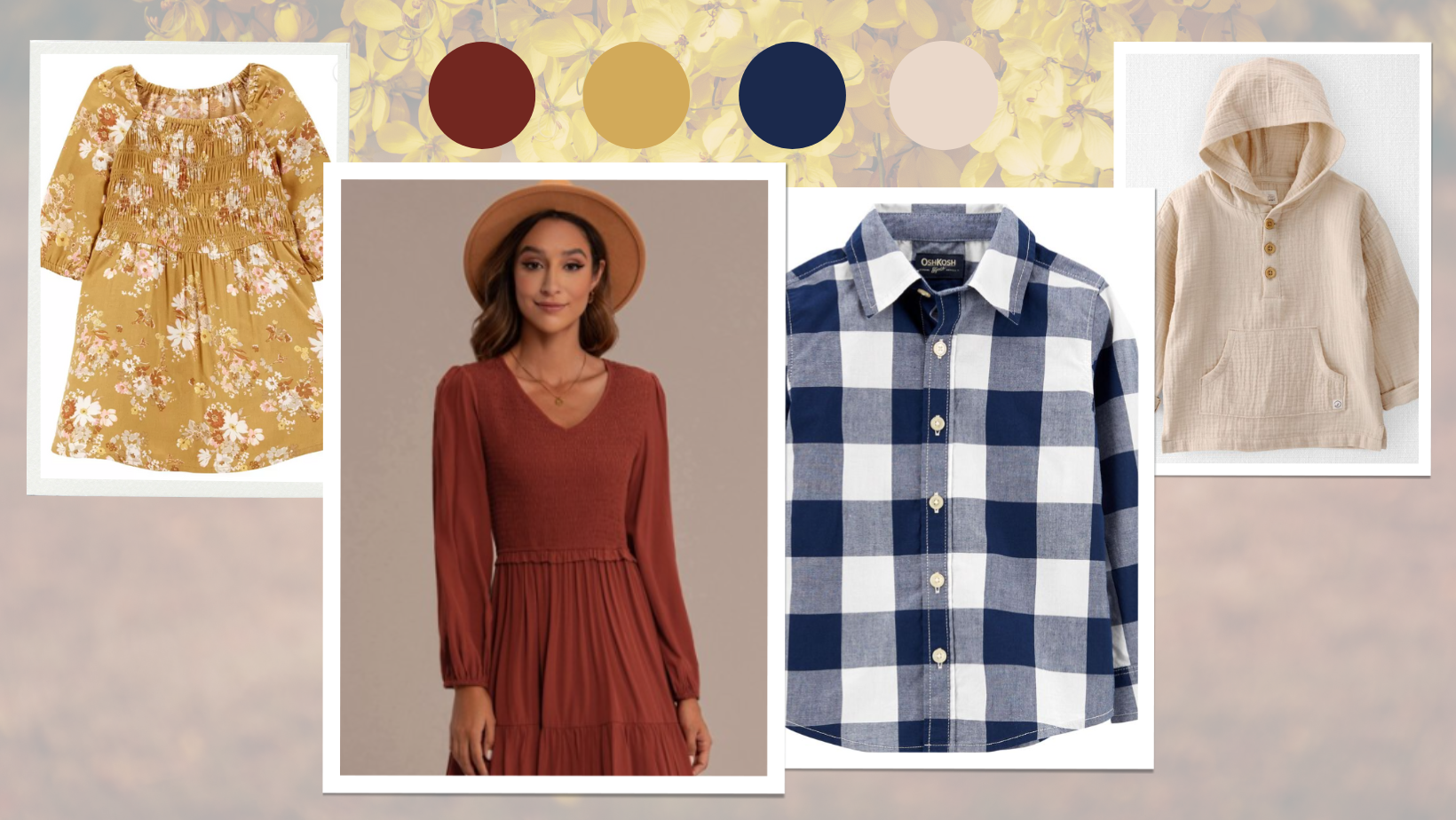 Buy Your Outfits: Yellow Floral Dress | Rusty Long Sleeve Dress | Navy Plaid Button Down Shirt | Cream Linen Shirt
4) Green + Jean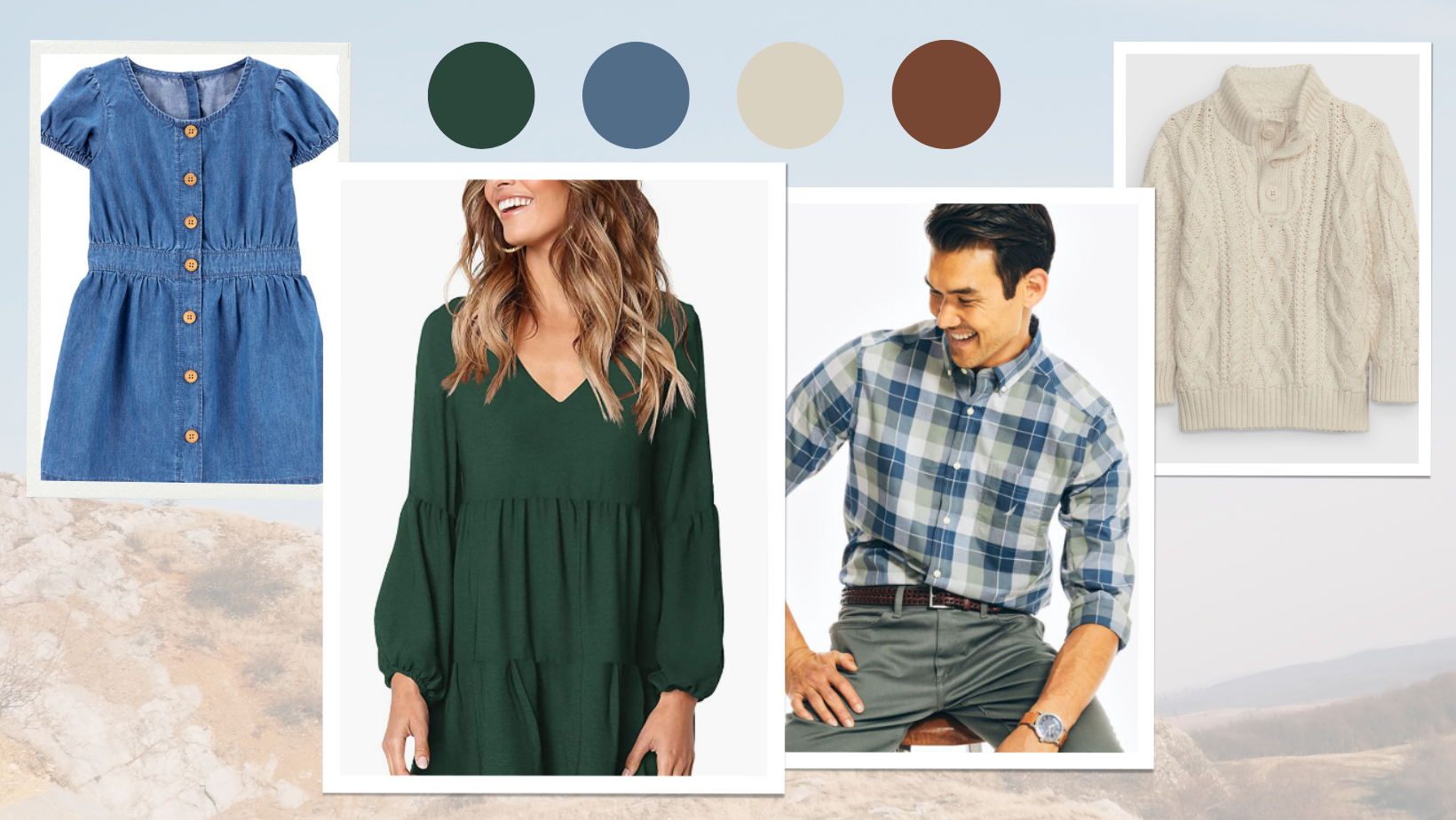 Buy Your Outfits: Denim Dress | Green Long Sleeve Dress | Cream Sweater | Blue Green Plaid Shirt
5) Elegant Teal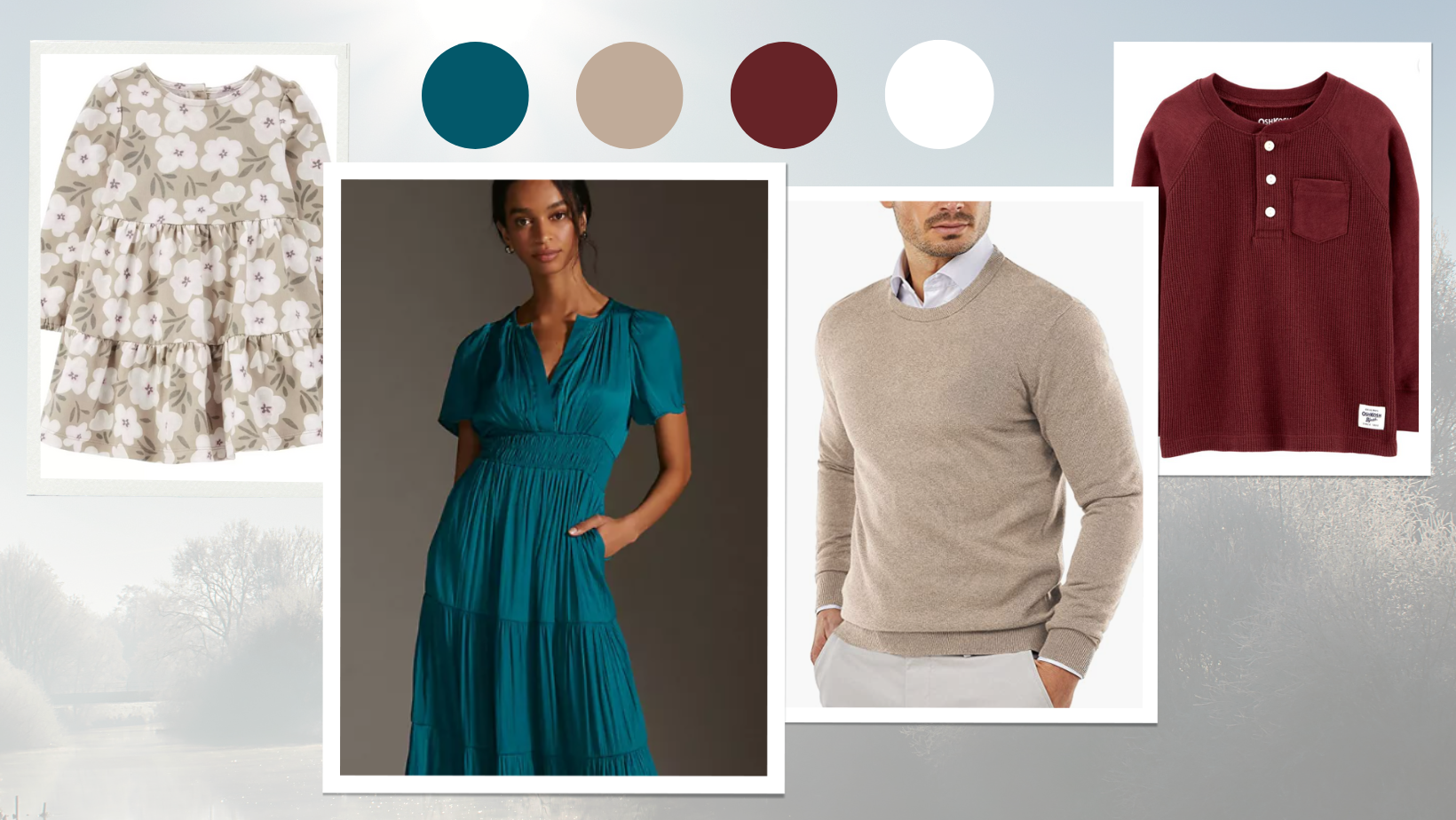 Buy Your Outfits: Cream Floral Dress | Teal Dress | Cream Sweater | Burgundy Shirt
6) Sunset Vibes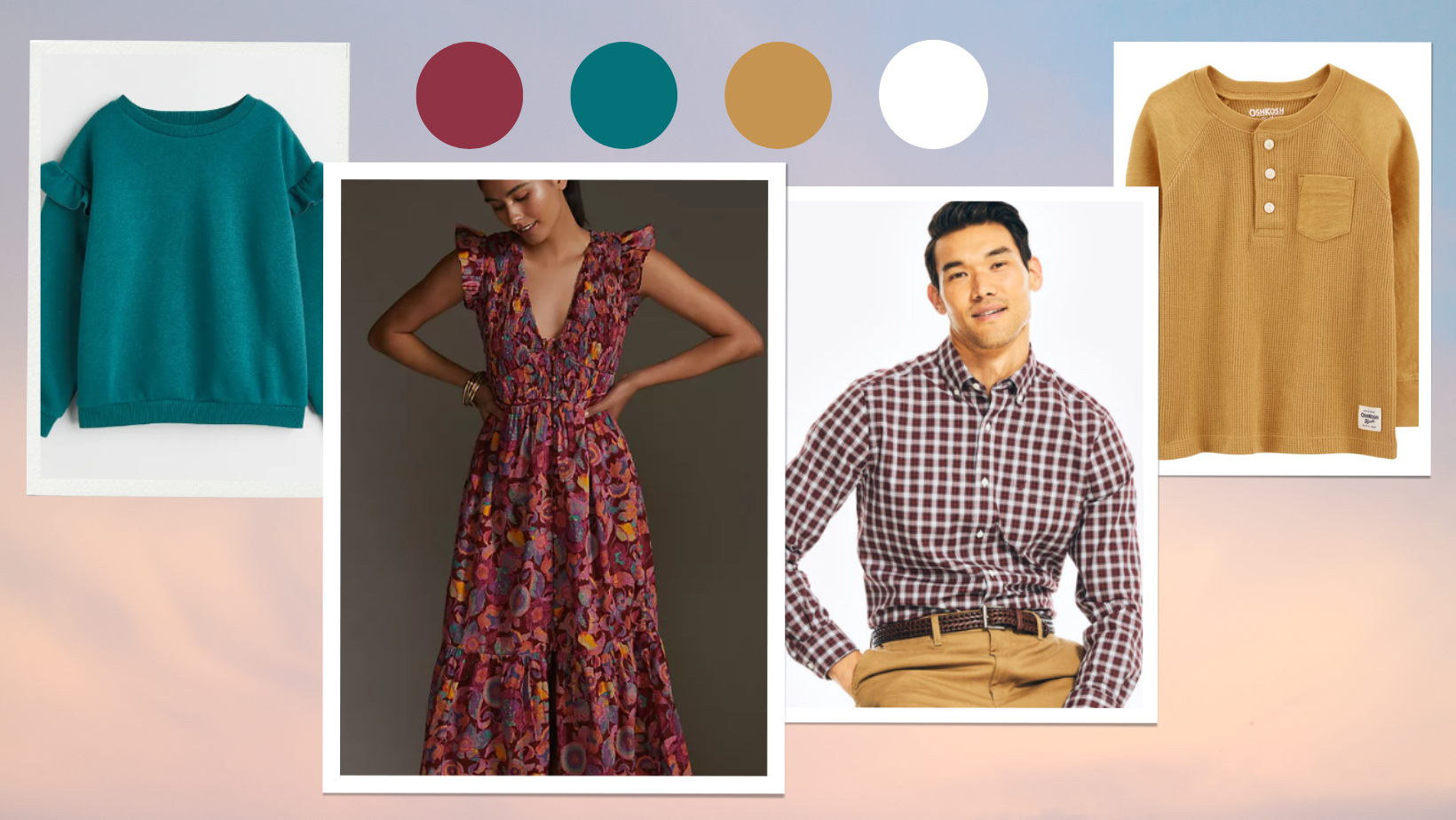 Buy Your Outfits: Teal Sweater | Fushia Floral Dress | Burgundy Plaid Button Down Shirt | Yellow Shirt
7) Classic Navy
Buy Your Outfits: Brown Sweater & Dress | Navy Blue Floral Dress | Navy Blue Sweater | Cream Sweater Dress
Tips for Fall Family Photo Outfits
Take Inventory
It can be expensive to buy brand new outfits for your family photo session. Take inventory of what everyone already has in their closets and add a few new pieces to go with it.
Balance bright colors/bold patterns with neutrals/solids
You'll notice in our mood boards that we will typically include a neutral color along with fall colors. This helps to balance out the color palette. We want the focus to be on you and your beautiful family first, and your cute outfits second! Don't steal focus by including too many busy patterns and bright colors.
Not too loose
While flowy shirts and dresses can be super comfortable, they could make you appear larger in photos. Try to wear something that fits well.
Accessorize
Our mood boards focus on color palettes and the main parts of an outfit, but there are so many accessories you can add it to make the outfits your own! (Sunglasses, hats, boots, etc.)
Final Thoughts
We hope this post has inspired you to take some fall family photos this year. We'll be taking ours in a few weeks so I'll update you on which outfits we choose!
"But I think I love fall most of all"
Recommended for You
Based on your reading, you may also like:
17 Gorgeous Winter Maternity Dresses