Disclosure: We only recommend products we would use ourselves and all opinions expressed here are our own. This post may contain affiliate links. At no additional cost to you, we may earn a small commission. Thanks!
There comes a time in every mom's life when they consider swapping out their cocktail bar for a coffee bar...or maybe you have enough space in your house to have both! Regardless, when I became a mom I learned that I had a lot more use for coffee on a daily basis. My Nespresso machine became my life line…and that freshly brewed, frothy cup of coffee was an indulgence. So if you are looking for ideas for small space in your house, this is your sign that a coffee bar is the way to go!
In order to start experimenting with different flavors and types of coffee, you need to first determine a space for a coffee bar. That's why we created this post to gather the best coffee bar ideas for small spaces. We'll start by looking at some beautiful ideas for inspo, and then we'll share our top recommendations for creating your very own coffee bar! (hint: it's easier than you think)
Beautiful Coffee Bar Ideas for Small Spaces
When redesigning a space in your house, it is helpful to visualize the space and have some fresh ideas in your mind. You can do this by creating a mood board. While you're looking through the coffee bars below, take some mental notes about what you love, what you don't love, and how they arranged everything. We want your coffee bar to be a happy place for you.
Vintage Corner
 Inspo: Making Home Matter
What We Love:
Neutral colors
Vintage decor
Natural wood and materials
Plants
Plus, notice how it all fits in a small corner of the kitchen!
2. Terrace House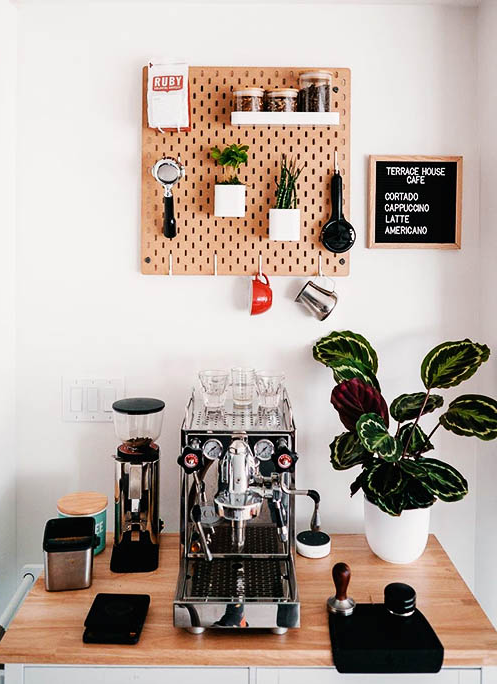 Inspo: Posh Pennies
What We Love:
Industrial feel
Peg board to hang coffee accessories
Message Board for menu or quippy phrases
Plant
3. Modern Farmhouse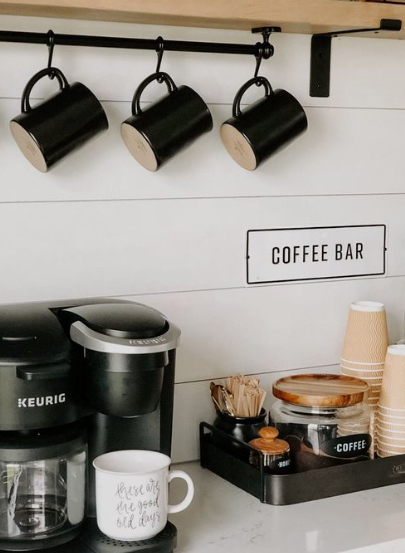 What We Love:
Classic black & white colors
Shiplap 
Simple sign
Cute mug
4. Classic Countertop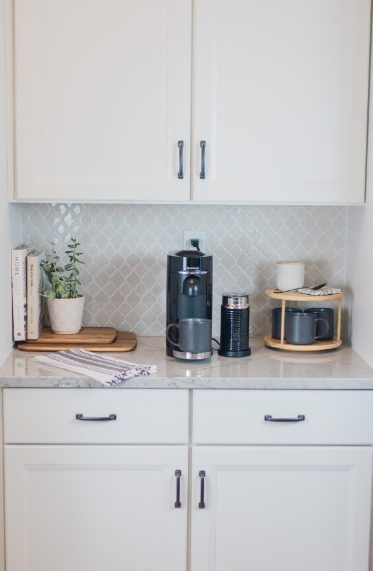 What We Love:
Clean, white look
Not-cluttered
Riser for extra space
Great cabinet storage space
5. Green Hutch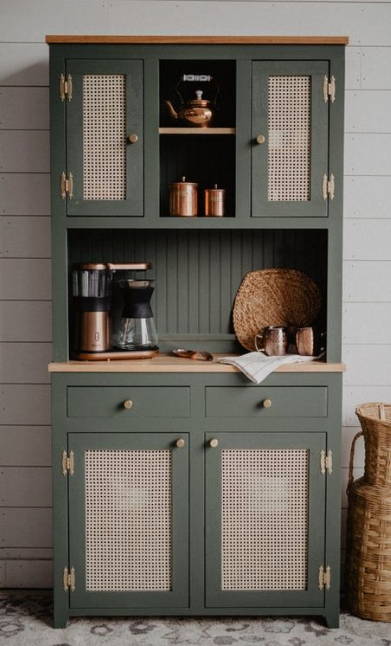 What We Love:
Vintage vibe
Dark green color paired with the basket material
Copper accessories
Rattan cabinets
Plus, notice that it is a separate hutch (not on a countertop)
6. Organizer's Dream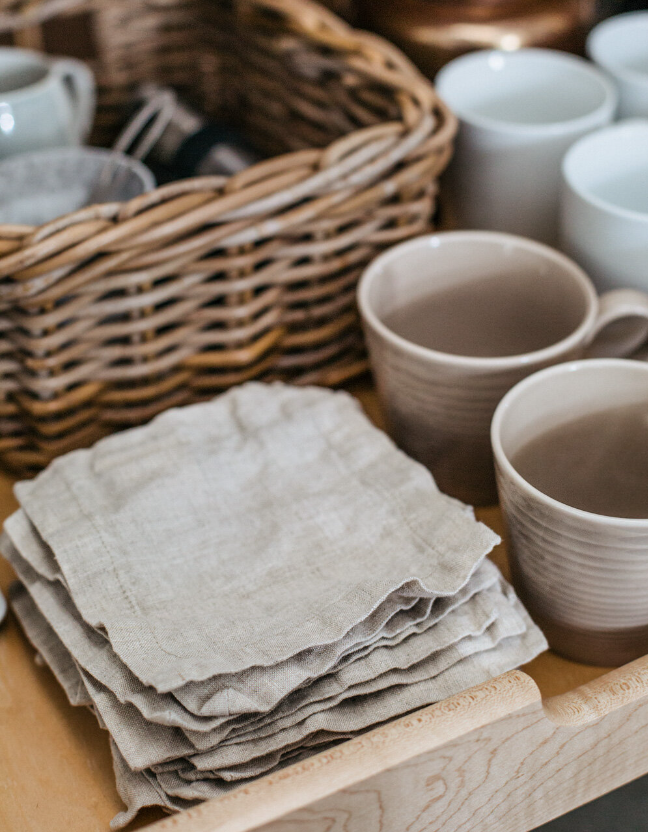 Inspo: Heather Bullard
What We Love:
Highly organized (obviously!)
The coffee bar itself is not cluttered
Tea options for the non-coffee drinkers
Square linen napkins for hot mugs
7. French Cafe
What We Love:
Modern, French cafe vibes
Syrup containers with gold tops
Coffee book
Gorgeous pink roses and greenery
8. Sweet Syrups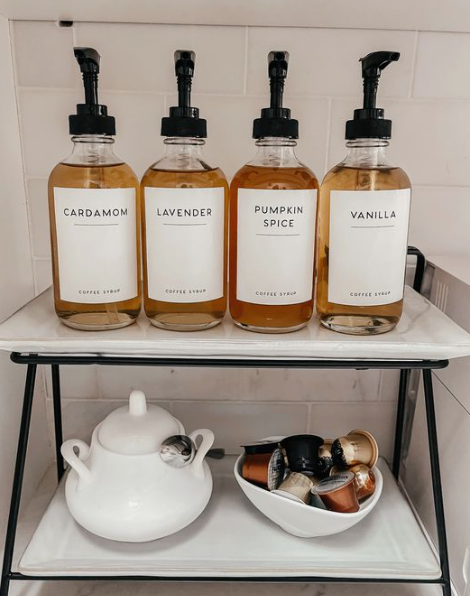 What We Love:
Syrup bottles and labels
Riser for extra space
9. Boho Beauty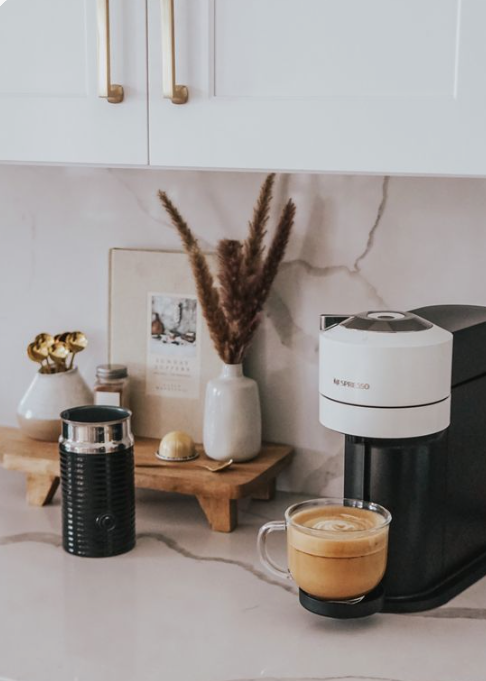 What We Love:
Simple
Rustic wooden riser
Boho twigs
Gold spoons
Glass mugs
Nespresso machine + Frother

Create Your Own Coffee Bar
Now that you feel sufficiently inspired…it's time to make your own DIY coffee bar! We hope the coffee bar ideas for small spaces above got your creative juices flowing. Here are a few of our favorite coffee bar products to help you get started: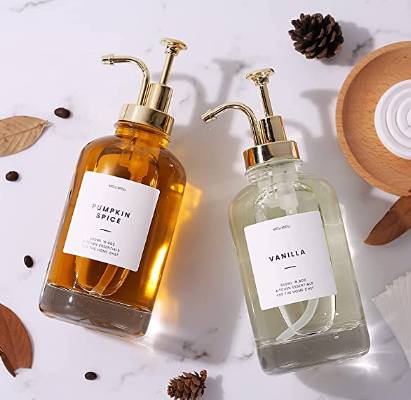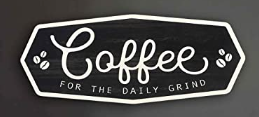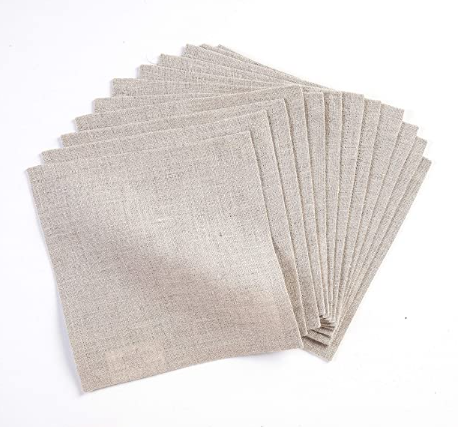 Final Thoughts
Well that was fun! Hopefully we've shown you that there are several amazing coffee bar ideas for small spaces so go ahead and start looking for a space in your house today. As a mom, the only thing I don't recommend is a coffee bar cart or anything that is low to the ground. Your baby may not be very mobile right away, but they will be a curious, climbing, active toddler before you know it!


Recommended for You
Based on your reading, you may also like:
17 Gorgeous Winter Maternity Dresses
How to Plan an EPIC Baby Shower